About Us
Red Sash Games is a game design and publishing company dedicated to producing quality board wargames. We have been in operation since 2004. Our focus is on European and European-style wars, from the late 17th to the early 19th centuries.
News and Subscriptions
For news about upcoming product releases you can:
1) Check out the News Page
2) Visit our Facebook page HERE
3) Subscribe to our mailing list. Not to worry! This is not a regular newsletter. But, if you are subscribed you will receive product news by email. Canadian law requires vendors to limit bulk emailing to previously subscribed persons.
Welcome to Red Sash Games™

Inquiries
For questions about new game designs, rules interpretations, and PnP issues write to Red Sash Games at administrator@redsashgames.com
For questions about order fulfillment and to obtain replacement parts, pricing, or to make a complaint about anything affected by production or shipping, write to Blue Panther LLC at questions@bluepantherllc.com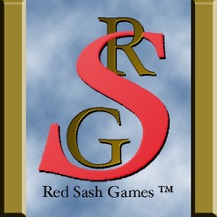 Our Mailing Address is:
Red Sash Games
c/o Ian Weir
1547 Despard Ave.
Victoria, B.C.
Canada
V8S 1T2
Copyright
Ian Weir and Red Sash Games™ retain sole copyright over all material purchased from Red Sash Games™ in both electronic and material form.
Blue Panther LLC has been granted permission by Ian Weir and Red Sash Games™ to manufacture and distribute all our titles, subject to our approval.
Sole copyright is retained by Ian Weir and Red Sash Games™ over all electronic information displayed on the Red Sash Games™ web pages, including files available for download.
Permission is granted to owners of Red Sash Games™ products to reproduce, solely for their own recreational use, printed copies of files and portions of files purchased as digital downloads, and to do the same for any files provided for download on the Game Support web page. Owners of Red Sash Games™ products are further permitted to make an electronic copy of any electronic files purchased from Red Sash Games™ for the sole purpose of securing their purchase by backing-up said files.
Owners of Red Sash Games™ products wishing to employ commercial printing outlets for reproduction, for the purpose stated above, are hereby permitted to do so by Ian Weir and Red Sash Games™. Written permission will be made available on request for the use of persons who have difficulty in persuading commercial outlets to undertake such projects.
Reproduction of Red Sash Games™ material in any form or medium, other than as stated above, whether for commercial or non-commercial purposes, is strictly forbidden without express written permission from Ian Weir and Red Sash Games™.
Ian Weir is sole owner of Red Sash Games™ and the designer and author of all material sold or made available through this website, including those materials manufactured by Blue Panther LLC expressly for Red Sash Games™.
Click on the link to visit the catalog of your choice

Navigating the Site
1) Click on the link to one of the catalogs above, then;
2) Either click on the Order Boxed Game button, or;
3) Click on the Buy Now button for Print and Play.
4) Additional information can be found about each game by clicking on its name or picture.
5) You can also use the links at the top of each page to navigate.
Ordering Boxed Games
Our games are solely manufactured, boxed, and shipped by Blue Panther LLC. By clicking on the Order Boxed Game buttons you will be redirected to their website, where you can make your actual purchase. Please be aware you will NOT be automatically returned here.
Each game's button is linked to its matching page at Blue Panther. If a button is not shaded grey, no page yet exists, but the game will still be available. Just email Blue Panther LLC or Red Sash Games™ with your order.
Blue Panther LLC is based in the USA and ships worldwide (but see the section about European customers below).
Ordering Print and Play Games
PnP games are PDF files that you can download and print out yourself. To buy one, click on the Buy Now button beside the game you want. You will be redirected first to PayPal™ and then to a webpage where you can download the files.
Downloads are limited to ONE (1) copy per order and remain available for only a few days before expiring. If you experience problems with the download, write to Red Sash Games™.
Red Sash Games™ grants permission to print any components contained in a PnP package for private use only. Written permission is available on request.
Counter Sheets
All the PnP games come with files for the counters but many customers do not have the time to manufacture physical counters themselves. Blue Panther will provide physical counters on request. Just email them at Blue Panther LLC. The cost to you will be $7 USD per counter sheet, plus postage, payable to Blue Panther LLC.
European Customers
We regret that we cannot take direct orders for boxed games from European customers, including from the UK. This is due to the current VAT policy there, which de facto prevents 'micro companies' like ours from doing business. However, we do supply the following online distributors:
If you do not see the title you want on their websites, write them and they will order the game for you.