About Us
Red Sash Games is a desktop design and publishing group dedicated to producing quality board wargames. We have been in operation since 2004. Our focus is on European and European-style wars, from the late 17th to the early 19th centuries.
Proprietor and Chief Designer is Ian Weir. His primary assistant (without whose hours of unpaid help the games would be nowhere near as polished) is Michael Junkin. And, much assistance comes from volunteers throughout the wargaming community (we'll take help wherever we can find it!).
News and Subscriptions
For news about upcoming product releases you can:
1) Check out the News Page
2) Visit our Facebook page HERE
3) Subscribe to our mailing list. Not to worry! This is not a regular newsletter. But, if you are subscribed you will receive product news by email. Canadian law requires vendors to limit bulk emailing to previously subscribed persons.
Welcome to Red Sash Games

Important Information: READ THIS FIRST
Red Sash Games is an 'on demand' publisher. This means we do not <usually> stock games. Instead, we take orders & when we have accumulated enough (50 items is the benchmark) we go to press. In practical terms this means 1-2 small print runs per year plus one large print run when we publish a new game (our average for the last 10 years has been 1 new game per year).
When we are preparing to go to press we contact all those who have placed orders and ask for payment. As an incentive we offer a 30% discount on preorders. Typically, production takes 3-4 months. Customers are then provided with shipping information and we mail out the games.
To answer your next question, our games come boxed, with sturdy paper maps and professionally die cut counters. Some items are in ziplock.
UNLESS THE GAME IS IN STOCK OR ON ADVANCE ORDER PLEASE DO NOT USE THE SHOPPING CART OR SEND MONEY
Payment Options
Our preferred payment method is PayPal™ but we accept International MOs (not country-specific ones) and cashier's cheques (not personal cheques) payable to Red Sash Games. We do not take credit cards but PayPal does. All payments in USD.
To pay through PayPal just visit the Catalog where you will find the usual Add to Cart buttons. Pull down menus give you the choice between List price and Discount with three shipping options: North America, Overseas Surface, and Overseas Air, plus the digital download option (no shipping required).
Shipping Charges on Multiple Items
For technical reasons it has proved impossible to provide a fair shipping charge when customers order multiple items. Therefore, if you wish to order multiple items, including duplicate items, please email us directly for a quote.
Digital Copies
We offer digital downloads (PDFs) for most items at a fraction of the cost. Digital copies are always available. Downloads are limited to ONE (1) copy per order and remain available for only a few days before expiring.
In Stock?
We do not carry stock as a general rule, but sometimes a production run resultis in a few spare games, which can be purchased at the full list price. To see what we have in stock (if anything), visit the Depôt page.
Contact Information
You can contact us by email at rsgmail@shaw.ca or on Facebook™, or you can use the contact form below.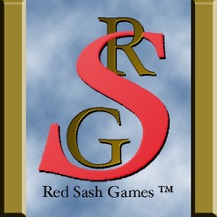 Our Mailing Address is:
Red Sash Games
c/o Ian Weir
1547 Despard Ave.
Victoria, B.C.
Canada
V8S 1T2
Copyright
Red Sash Games and Ian Weir (designer of the Lace Wars™ and Sea Lords™ series of games) retain sole copyright over all material purchased from Red Sash Games in both electronic and material form. Sole copyright is also retained over all electronic information displayed on the Red Sash Games web pages, including files available for download.
Permission is granted to owners of Red Sash Games products to reproduce, solely for their own recreational use, printed copies of files and portions of files purchased as digital downloads, and to do the same for any files provided for download on the Game Support web page. Owners of Red Sash Games products are further permitted to make an electronic copy of any electronic files purchased from Red Sash Games for the sole purpose of securing their purchase by backing-up said files.
Owners of Red Sash Games products wishing to employ commercial printing outlets for reproduction, for the purpose stated above, are hereby permitted to do so by Ian Weir and Red Sash Games. Written permission will be made available on request for the use of persons who have difficulty in persuading commercial outlets to undertake such projects.
Reproduction of Red Sash Games material in any form or medium, other than as stated above, whether for commercial or non-commercial purposes, is strictly forbidden without express written permission from Ian Weir and Red Sash Games.